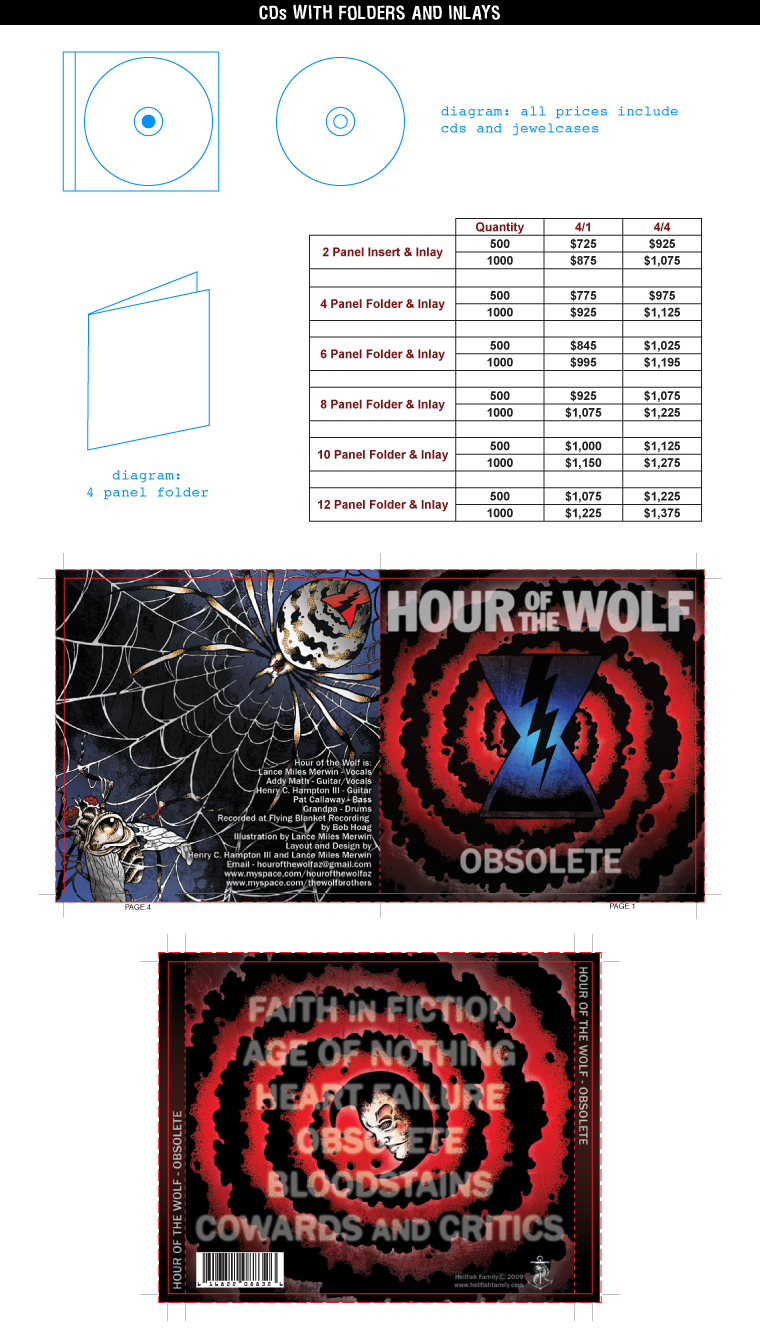 CD Folders and Inlays are often packaged in plastic jewel cases and shrink wrapped. There are various options for the CD Folder and Inlay CD package. These options vary from the 2 panel, 4 panel, 6 panel, 8 panel, 10 panel, and 12 panel. Other options are available on a custom quote basis. There are multiple paper options, but the most common is 100 lb glossy text. Other options include uncoated text. There is a plastic CD Tray involved. A Top Spine is also available upon request. A Top Spine is a plastic sticker that is placed over the top of the shrink wrap. It includes information on the band, record label, and release information as well as a scannable barcode. The CDs themselves are molded, not burned. The CD face is printed using an offset printing method.
Princes include all plates / films, glassmaster, up to 3 color disc label, packaging with black or clear tray, and overwrap.
Upgrades:
Full color disc label: 5¢ per disc (upgraded to offset printing free!).
Top spine labels: 5¢ per disc (includes free barcode if requested!).
Paper: 80# Uncoated Text: Email walter@iloveimprint.com for pricing.
Additional color trays available upon request, please email for a quote. Prices do not include overs or shipping.*
For 500 piece orders, you can add 500 bulk discs and bulk print (perfect for promos!) for only $100.
A completed IPR form must accompany ALL CD replication orders.
CLICK HERE TO DOWNLOAD IPR FORM
.
Need custom print work, custom paper, or different packaging options? We can do it! Contact
walter@iloveimprint.com
and tell him what you need!
*Estimated shipping for 1,000 CDs in jewel cases is between $75 and $165 in the continental US. For an exact quote please email
walter@iloveimprint.com
All CD orders are subject to a 10% over or under run... In other words, you get billed for the exact quantity of discs you receive.